Concrete Solutions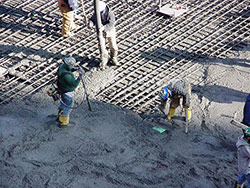 "Concrete paving is competitive with asphalt"…. say again?  "Concrete paving is competitive with asphalt" is a phrase worth repeating and MAGRUDER CONCRETE SOLUTIONS can show you how.  MAGRUDER CONCRETE SOLUTIONS is one of the southeast's leading private sector concrete paving contractors with a proven method for converting conventional paving designs to concrete and pervious concrete paving solutions.
It is generally accepted that concrete outperforms asphalt in most applications and now Magruder's staff can provide recommended alternate thickness designs, plan details and specifications for a concrete alternative to asphalt pavements.  Time and again, Magruder has demonstrated it can provide a high-quality parking area in concrete that is initially cost effective compared to an asphalt design. 
MAGRUDER CONCRETE SOLUTIONS has the manpower, equipment and expertise to provide a high quality product while remaining cost effective.  Magruder takes pride in its work and has ACI Certified Flatwork Craftsmen and finishers who will use their skills to provide a long lasting concrete product. Magruder has successfully completed numerous "big box" store slabs and parking areas as well as small concrete parking lots throughout the US. 
Asphalt and concrete are generally designed based on the frequency of truck traffic with their load carrying capacity (18,000 lb Single-Axle Loads).  Using a layer structural coefficient for the designed asphalt section, a computer analysis will demonstrate the anticipated total number of 18 lb SAL for each pavement type.   Using these criteria, an equal or greater concrete pavement capacity design can be provided as well as the cost estimate for a superior concrete pavement. MAGRUDER CONCRETE SOLUTIONS can show you the comparison results based on a computer design analysis and it is as simple as that! 
If you have a concrete application, MAGRUDER CONCRETE SOLUTIONS can provide a cost estimate for your project.  It is in your best interest to contact Magruder early in the project's design or construction phase. Alternatively, you may also wish to consider our Pervious Concrete Solutions.
Green Building Design (Whole Building Concept) begins in the Parking Lot. LEED, the USGBC Green Building Rating System, recognizes pervious pavements in their application for certification credits.Since the early 1980s, Magruder Concrete Solution's personnel were among the first to see these commercial benefits of pervious concrete.